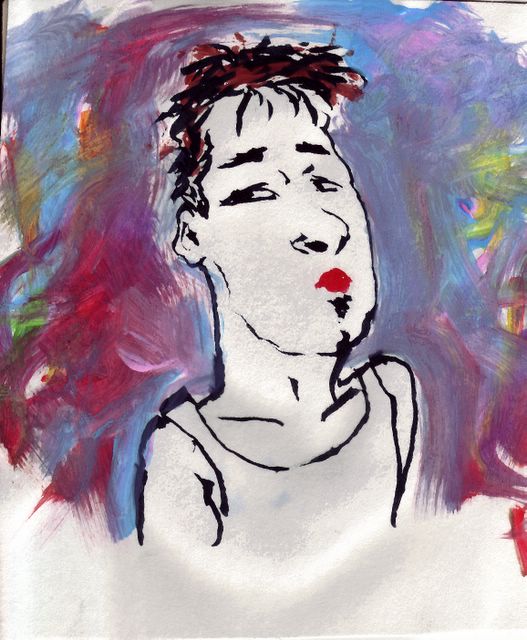 Thursday. Almost Friday, but not quite. Kyle Snyder's where we'll start because it's where independent media can't seem to go.
If you've been following the story, you know that Snyder served in Iraq and then self-checked out in April 2005 and went to Canada. He's a war resister opposed to the illegal war. He decided to come back to the United States. He came back Saturday, turned himself in at Fort Knox on Tuesday and then found out the deal worked out wasn't for real. So he checked out again.
There's a story there, there are about 50 stories there. But where is the independent media?
That's the question to ask and C.I.'s been asking it for some time. "War in Iraq bad." That's what independent media says but they don't cover it. They don't cover the war resisters.
Kyle Snyder is the story of today's military. He comes from a troubled home where his mother was beaten and he was as well. He was placed in foster care. The recruiters came to pounce. They promised him the world and delivered nothing.
He thought he was going to be doing reconstruction in Iraq and was trained for that but there was no reconstruction in Iraq, just construction of US bases and the US embassy.
He saw an Iraqi shot by a buddy who was serving. And the Iraqi shouldn't have been shot. So he reported it and it was ignored. No investigation. The message was that the military can do whatever it wants to Iraqis.
In the meantime his girlfriend lost their kid, his grandfather died and the war was all one big lie. So he self-checked out.
Where's the media? I guess it's self-checked out as well. Did you see C.I.'s answer to Zach's question in "
Other Items
"?
Dona
's already asked that I talk about the Goodmans' new book for
The Third Estate Sunday Review
. Readers of
TTESR
don't want to wait until after the election for book coverage so we'll be discussing an art book and I'll address the Goodmans' book -- the good, the bad, the typos. On the latter check out page 53 (if I'm remembering correctly). (I was asked because no one else has read it.)
Dona
's actually been asking that all week. She learned it was a go when she read "
Other Items
." :D Well, when you can't cover Kyle Snyder, you piss C.I. off. I'm not expecting C.I. to go to town on the book but I am expecting to hear about some serious flaws so I'm really looking forward to this edition. Nobody else read it. The days when we would get all excited faded in the heat of the summer when Goodman & co. couldn't find Iraq with both hands. C.I.'s the only one who regularly listens to the show.
Dona
says she thinks C.I. wouldn't be discussing the book at all this weekend if
Democracy When
had bothered to cover Kyle Snyder. He didn't even rate the one-day-baby-cried-the-day-the-circus-came-to-town coverage the others got.
Democracy When
has been too busy doing voting drives to cover Iraq. I also know from
Jess
that C.I. was outraged by a deaf member. He wrote to C.I. because he was furious that the Galludet students were ignored until after the fact. If C.I.'s always on the road, it's not always possible to catch
Democracy When
so C.I. wasn't aware of that but checked it out and it is true. That was why there was such a hug gap between the two entries. C.I. came across that e-mail right after posting "
Kyle Snyder self-checks out again after the military tries to burn him again
" and looked to see if the program had ever offered anything more than a headline here and there? While C.I. was looking through the program's archives, everyone was getting quizzed about whether or not they remember any stories on Galludet? No one did. It was like Abeer all over again.
Back on October 22nd, the core six wrote "
The students of Gallaudet University are standing up
" and that was supposed to have been covered the week before. There were too many problems with the website to do it then. The core six worked on it because there was something else we were all doing together and C.I. said fine but if we stay up until 6:00 p.m. we are writing about Gallaudet. That's one of the places C.I. had talked with students and then C.I. wrote about what was going on there for Polly's Brew the first Sunday of October. The deaf and hearing impaired members of the community really responded to that and were e-mailing to say how it just seemed like there was time for everything in the world to be covered by independent media except Gallaudet. So C.I. was trying all month for that feature. I don't even remember what got traded. But I know C.I. pitched in with at least one story that otherwise would have been written without. And when it couldn't make it into the October 15th edition, C.I. was very clear that it would be covered the next week.
Which is how you have to be because we're all working at once during the marathon session and there are times when we really have to start cutting out pieces because there's not time or making them for the print edition only because there's not time to polish them. So if someone forgets something, someone else has to remember or it gets forgotten.
By the way there's a site I just heard about and it's
www.warslavery.org
which sounds pretty cool. If I don't write about it by Tuesday, somebody remind me.
So I'm looking forward to the book discussion and I'm also reading a book so I can be ready. No, not the Goodmans' book. I don't need the headache. I'm reading Cindy Sheehan's
Peace Mom
which I think everyone else has already read. It's really a great book, which doesn't surprise me, but it does surprise me how strong it is. It really speaks to you.
I'm up to the part where she's responding to some Congress guy with "King" in his last name. I think that's the half-way mark. My only suggestion would be for some pictures. :D
Seriously, I wondered what Casey looked like out of his uniform (she holds a picture of him in his uniform in the cover photo) and what Andy, Carly and I forget her other daughter look like. The part where she goes back to work a few weeks after Casey dies is probably what stood out most to me so far. The drive back after the first day of work and I don't want to spoil it for you.
But she's Cindy Sheehan and when I say that I mean she's just putting it out there, not trying to pretty it up, just telling it like it is. There are probably fifty books I have from C.I. that I haven't had time to read and when I decided to grab a book, I was actually thinking I would grab something else. But I was going through the stacks and that one just said "Read me" for some reason. I'm really glad that I listened because it's really a powerful book.
If I'm rushing the entry tonight it's because I want to get back to reading it. I probably won't have time tomorrow. Fortunately, I read fast even though I type slow. :D
If you haven't read the book yet, you should but if you're not sure, check out the book discussion Sunday at
The Third Estate Sunday Review
and I bet you'll be going, "Okay, I've got to read this." By the way, check out Rebecca's "
dear john
."
That's it for me tonight. Here's C.I.'s "
Iraq snapshot
:"
Thursday, November 2, 2006. Chaos and violence continue in Iraq, war resister Kyle Snyder self-checks out again, polls in the United States continue to demonstrate the opposition to the illegal war, a Saudi report says the war is over and lost, and England's Ministry of Defence cautions us all to stop worrying and embrace depleted uranium.
Starting with war resistance.
Kyle Snyder
self-checked out of the US military in April 2005 and moved to Canada. Saturday, Snyder returned to the United States with the intent of turning himself in at Fort Knox under the deal the military had worked out with Snyder's attorney, James Fennerty. The military elected to burn Snyder yet again and did not move to the agreed upon dishonorable discharge but towards deploying Snyder back to Iraq.
Kyle Snyder didn't sit around passively. He's checked out again.
Brett Barrouquere (AP) reports
that Snyder checked out "Tuesday after being dropped of at the Greyhound Bus station in downtown Louisville," Kentucky and Synder explained to Barrouquere, "I realized this deal was going to go bad." A longer
AP version
notes Synder explaining, "I came back in good faith. I put my trust in them one more time. Why should I put my trust in them again when I can just go back to Canada?"
Also noted
is that Snyder is traveling with activist and Vietnam war resister Gerry Condon who is hopeful that this was a misscommunication. Condon wrote on the subject of war resisters to today's illegal war
in the July issue of The Objector
[PDF format].
James Fennerty also acted as war resister
Darrell Anderson
's attorney. (Anderson turned himself in
October 3rd
. He was
released October 6th
.)
Claudia Bayliss (South Bend Tribune) examines
the roll of faith and service in Anderson's stand and speaks with Anita Anderson (Darrell's mother), Margaret Pfeil ("professor of moral theology" at Notre Dame), Lt. Col. Kelly Jordan and Mike Schorsch (
Catholic Peace Fellowship
in South Bend).
Schorsch states
: "Kids like Darrell go through military training, they go to war, they change, they grow up -- but they never lose their humanity. And sometimes their humanity boils up inside of them and causes them to say 'No,' even if it means personal risks." More information on Kyle Snyder, Darrell Anderson and other war resistors who have gone public can be found at
Courage to Resist
.
War resistance among the general public in the United States continues (as it will continue to do, the opinion hardened against the war some time ago, there will not be a softening).
Adam Nagourney and Megan Thee (New York Times) report
on the latest NYT/CBS News poll which found only "29 percent of Americans approve of the way President Bush is managing the war, matching the lowest mark of his presidency. Nearly 70 percent said Mr. Bush did not have a plan to end the war, and 80 percent said Mr. Bush's latest effort to rally public support for the conflict amounted to a change in language but not policy." Those polled cited the illegal war "as the most important issue" -- if only the media, big and small, felt the same.
AFP notes the Wall St. Journal/NBC poll
released Wednesday which found: "54 per cent of [US] voters saying it had not been worth the human and economic price to remove former Iraqi dictator Saddam Hussein from power."
This comes the same week, as
reported by The Turkish Press
, that a study by the Saudi government finds that the illegal war to be a "lost battle" and the ethnic conflicts (which the illegal war brought to the forefront) to have created a "dire" condition. The Magaing Director of the Saudi National Security Assessment project, Nawaf Obaid, declared that the war "has failed by every single measure that you can think of. . . . The failure is only compounded by the fact that we just don't know what the endgame is."
Meanwhile, in Iraq,
Patrick Cockburn (Independent of London) reports
on concerns among "the Shia community that the US would like to ally itself more closely with the Sunni Arabs" and see that as the reason for the helicopter gunship attacks on the Medhi Army.
Cockburn notes
that despite the past concilliation talks between the US and leaders of the resistance "in Jordan and Saudi Arabia, the US has yet to make any headway in negotiations to end the fighting." The
AP reports
that the puppet of the occupation, Nouri al-Maliki, is considerning "plans to reshuffle his 39-member Cabinet, possibly this month". Nouri al-Maliki has been flirting with this for months now and it's been reported to be 'about to happen' since it was first reported. It'll happen at some point, probably as a last-gasp measure from al-Maliki when he fears the US is replacing him with a new puppet. (And notice how the 'four-part' 'plan' has been dropped from coverage as well? Guess they could only cover steps one and two for so long.)
Also reporting from Iraq,
Dahr Jamail and Ali al-Fadhily (IPS) report
on the crackdown in Al-Anbar Province and notes that the fire fighters killed by US forces (admitted, the US military says it was a 'mistake') were not accidnetal killings, according to eye witnesses ("They were not killed by mistake, they were killed in front of many people," says one witness) and that "Ramadi has been facing electricity and water cuts for about two weeks now. Most residents believe this is punishment for the popular support for Iraqi resistance."
Bombings?

Sameer N. Yacoub (AP) reports
a motorcycle bomb in the Sadr City section of Baghdad took the lives of seven people and left forty-five wounded.
Al Jazeera, qutoing an Interior Ministry source, notes
that the bomb was "detonated by remote control".

CBS and AP note
two died (25 wounded) from a roadside bomb "in Baghdad's al-Jaeeda district".
Reuters reports
, in Baghdad, mortar rounds resulted in four deaths and eleven wounded; a car bomb in Mahmudiya took one life and left four wounded, and a roadside bomb in Baghdad killed one and wounded 22.
Shootings?

Sameer N. Yacoub (AP) reports
that "the Shiite dean of Baghdad University's school of administration and economics" was shot dead and became "the 155th Iraqi academic murdered in sectarian violence and revenge attacks since the 2003 U.S. invasion."
CBS and AP note
that the dean's name was Jassim al-Asadi and that his wife and son were also killed.
AFP reports
that Amal Ahmed ("pharmacist and former army officer") was shot dead in Kirkuk "one of a series of attacks on female professionals by suspected Islamists.
Reuters reports
that a judge, Tariq Abid Ali, and his son were shot dead in Baquba which was also the location for the shooting deaths of two police officer; just outside Baquba, two truck drivers were shot dead and three people were kidnapped; in Udhaim, five truck drivers (in two fuel trucks) were shot dead, a guard was shot dead in Kirkuk, and that three police officers were shot dead in Baghdad.
Corpses?

Reuters reports
that four corpses ("blindfolded") were discovered in Mahmudiya and three were found in Yusufiya.
CBS and AP note
that two corpses were discovered in Baghdad ("bound and blindfolded").
In other news from the ground in Iraq,
John Ward Anderson and Saad al-Izzi (Washington Post) report
that the US military has confirmed that the missing US soldier Ahmed Qusai al-Taayie had married an Iraqi woman (in February 2005, not three months ago as previously reported), that her name is Israa Abdul-Satar (she is 26, he is 41) and that he was visiting her when he was kidnapped ("two of her siblings had tried to fight off te adbudctors when they came to grab him").
Claudia Parsons (Reuters) reports
that the couple married before Qusai al-Taayie deployed to Iraq. He remains missing and the
US military has announced
the death of another US soldier: "A Multi-National Division -- Baghdad Soldier died at approximately noon Wednesday when the vehicle he was riding in was struck by an improvised-explosive device west of Baghdad." The death brings the total number of US troops killed in Iraq since the start of the illegal war to
2819
.
In Oh-Boo-Hoo news,
AP reports
that little Lt. General Ricadro Sanchez has ended his military career and is whining that Abu Ghraib is the reason: "I was essentially not offered another position in either a three-star or four-star command." Poor, poor, pitiful Sanchez. It's not like he's behind bars like Lynndie England or Charles Graner or dead like Alyssa Peterson whom
Greg Mitchell (Editor & Publisher) notes
killed herself following her objections to the torture at Abu Ghraib being used according to the reporting of Kevin Elston: "Peterson objected to the interrogation techniques used on prisoners. She refused to participate after only two nights working in the unit known as the cage. Army spokespersons for her unit have refused to describe the interrogation techniques Alyssa objected to."
In Don't-Believe-It-For-A-Minute news,
Michael Evans (Times of London) reports
on the claim put forward by England's Ministry of Defence that "firing of depleted uranium (DU) shells in Iraq had caused no long-term health problems either for British soldiers or for Iraqi civilians". In September of 2004,
Juan Gonzalez (New York Daily News and co-host of Democracy Now!) reported
on Victoria Claudette Matthew, the daughter of Gerard Darren and Janice Matthew who was conceived shortly after Gerard Darren returned from Walter Reed after being sent there (from Iraq) because: "One side of Matthew's face would swell up each morning. He had constant migraine headaches, blurred vision, blackouts and a burning sensation whenever he urinated." Victoria Claudette Matthew was born "missing three fingers and most of her right hand." That is but one example. In 2005,
Dahr Jamail (Iraq Dispatches) reported
on Iraq Veterans Against the War's Nicolas Prubyla who had blood in his stool, hair loss, numbness in his right arm. Jamail has also noted the effects of DU on Iraqis and,
at the end of 2003
, noted that "many areas in the south are unihabitable by the use of Depleted Uranium" and,
in 2004
, noted, "Dr. Jawad Kadhim Al-Ali, Director of the Oncology Center in Basra, has theorized depleted uranium as a reason that the death rate from cancers in Basra has now reached 19 times that of 1988."
In legal news, the
Times of London reports
a development in the court-martial of seven British soldiers accused of abusing Iraqis when they were in charge at a Basra prison. One of the seven, Stuart Mackenzie, kept a journal which was read aloud to to the court and "described attacks on Iraqi prisoners, some of whom were dubbed 'Ali Babas' in the accounts." An entry from 2003 recounts: "Beat them up with sticks and filmed it. A good day so far." Mackenzie denies any memories of the events he recorded in his journal.

Zolton Grossman (CounterPunch) examines
the peace movement and offers some hypothesis on what can be done. There's no mention of the role of the media. There rarely is. In fact, Danny Schechter's action last March seems more and more needed today (Schechter targeted the mainstream media for their coverage). (For those wondering, Democracy Now! didn't have time to even make Kyle Snyder a headline today. Aileen Alfandary noted it during the headlines on today's
KPFA
's
The Morning Show
.)
In election news,
CODEPINK
discovers candidate Charlie Brown is no Peanuts character but he is a fairweather friend.
Dan Bacher (Indybay Media) reports
that Brown's spokesperson has stated he (Brown) does not support CODEPINK and that "CODEPINK does not belong in the 4th district." Apparently, there's plenty of room in the 4th district for the spineless like Brown. This follows
Stephen Pearcy (Indybay Media) report
on Monday of Charlie Brown's wife attempting to pressure
Cindy Sheehan
into not attending a war protest last weekend. (Sheehan ignored the unsolicited 'advice.')
Lastly, refusing to count on others to do the work that needs to be done (smart move),
Ehren Watada
's father Bob Watada and his step-mother Rosa Sakanishi continue their speaking tour to raise awareness on Ehren -- the first commissioned officer to refuse to deploy to Iraq. Upcoming dates include:

Nov 2, TBA Cincinnati, OH Meet Dr. Victoria (Vic) Wulsin, candidatefor congress 2nd district Ohio currently leading Jean Schmidt whocalled Rep John Murtha from PA. a coward. Sponsor: Vietnam Veterans Against the War Venue: TBA
Nov 3, TBA St. Paul MN. Location: Quaker Peace Center -- 1725 Grand AvenueSponsors: Veterans for Peace Chapter 27 Contact: Barry Reisch, (H) 651-641-1087 © 612-269-8934
bwrvfp@earthlink.net


Nov 4, 11AM Milwaukee, WI. Location: Great Lakes Arlington EventContact: Mark Foreman, 441-760-9991,
bethmark@execpc.com
Sponsor: VFP Chapter 102 * See the unveiling of a new "Arlington"
Nov. 5, 2PM Boston, MA Encuentro 5 33 Harrison Ave. 5th floor (Chinatown)Sponsors: Asian American Movement Ezine Asian American Resource Workshop Boston Hawaiian Club Chinese Progressive AssociationMassachusetts Global Action New England Japanese American Citizens League
Nov 5, 7PM Cambridge, MA. Location: Unitarian Church, Harvard SquareSponsor: Veterans for Peace Chapter 9, Smedley Butler Brigade and Chapter 45, Samantha Smith Chapter Contact: Lee VanderLaan, 978-257-2350
Nov 6, 2-4:30PM Boston, MA Location: University of Massachusetts/BostonSponsor: The Institute for Asian American Studies William Joiner Center for the Study of War and Social Consequence Time: 2-4:30 pm
Nov 6, 7PM Worcester, MA. Location: Clark University University Building, Lurie Room Sponsors: Veterans For Peace Chapter 10 Contact: Bob Flanagan, 508-755-1479,
IrishBob54@aol.com


A
full schedule can be found at Veterans for Peace
and those interested in hosting a Bob Watada speaking engagement in their area are urged to contact
Doug Zachary
.
cindy sheehan
the third estate sunday review
war slavery
mikey likes it
the common ills
iraq
brett barrouquere
kyle snyder
ehren watada
bob watada
cindy sheehan
gold star families for peace
the new york times
john ward anderson
the washington post
codepink
patrick cockburn
kpfa
the morning show
aileen alfandary
dahr jamail
ali al-fadhily
danny schechter